If water stops running, life stops working.
The world's future and our lives depend on having enough clean, safe water.
We need extraordinary commitment to ensure clean water for all.
In 2017, Mina ran a marathon a day for 40 days along six rivers around the world in support of the United Nations' Global Goal 6: Clean water for all.
follow the campaign on social media
- The 6 River Run Route -
RIVER 1 | North America
22–26 March 2017
RIVER 2 | SOUTH AMERICA
28 March – 2 April 2017
RIVER 3 | AUSTRALIA
5–9 April 2017
River 4 | Asia
10–17 April 2017
RIVER 5 | Africa
18–23 april 2017
RIVER 6 | EUROPE
24 April – 1 may 2017
The 6 River Run is completed!
The expedition kicked off on World Water Day, 22 March 2017 in Las Vegas,
and ended on 30 April 2017 in London
1,688 km
Distance completed
Join our movement to gather worldwide support for Global Goal 6
Mina carried a large flag during the Six River Run and asked people to sign it as a demonstration of their commitment to the UN's Global Goal 6. The flag & our online signatures were delivered to the UN's Headquarters.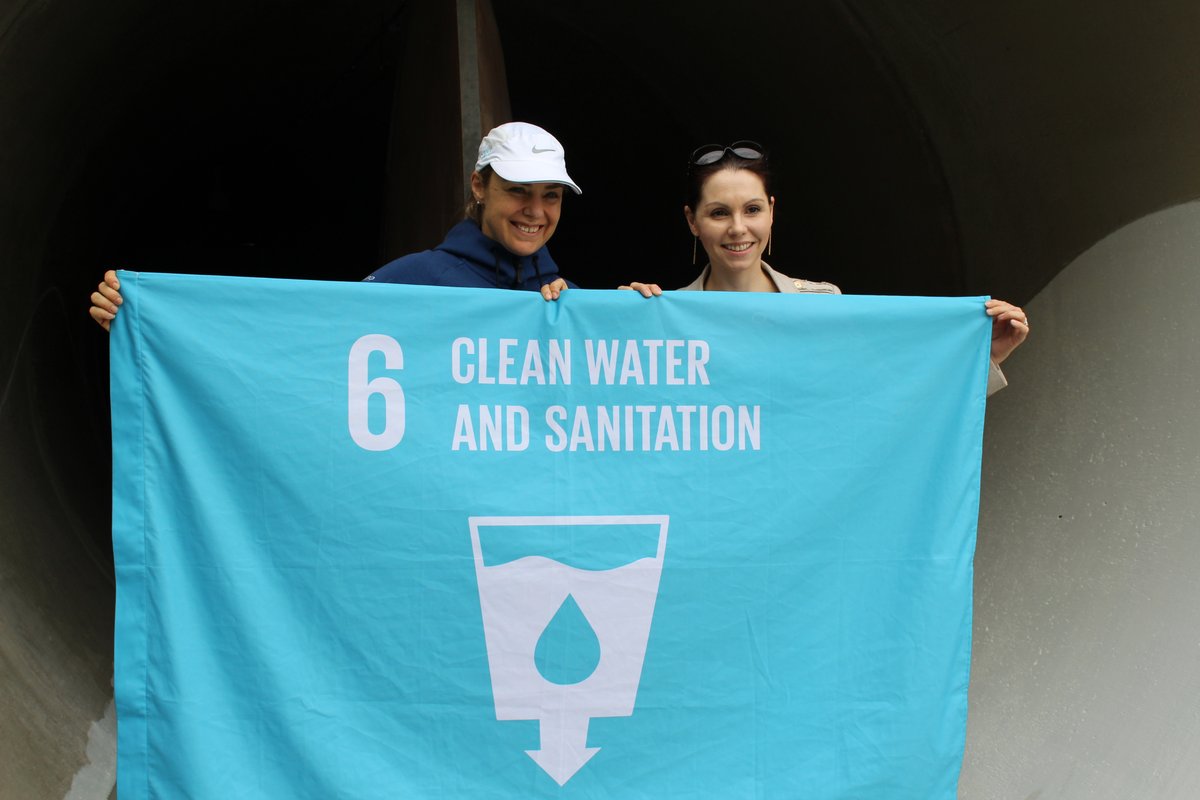 What are the Global Goals?
"In September 2015, 193 world leaders agreed to 17 Global Goals for Sustainable Development. If these Goals are met, it would mean an end to extreme poverty, inequality and climate change by 2030.

"Our governments have a plan to save our planet…it's our job to make sure they stick to it.
"The Global Goals are only going to work if we fight for them
and you can't fight for your rights if you don't know what they are."
Global Goal 6
Global Goal 6 is focused on ensuring water and sanitation for all.
It has six sub-goals each focused on solving a different aspect of the water crisis.
By 2030, achieve universal and equitable access to safe and affordable drinking water for all
By 2030, achieve access to adequate and equitable sanitation and hygiene for all & end open defecation, paying special attention to the needs of women and girls and those in vulnerable situations
By 2030, improve water quality by reducing pollution, eliminating dumping and minimizing release of hazardous chemicals and materials, halving the proportion of untreated wastewater and substantially increasing recycling and safe reuse globally
By 2030, substantially increase water-use efficiency across all sectors and ensure sustainable withdrawals and supply of freshwater to address water scarcity and substantially reduce the number of people suffering from water scarcity


By 2030, implement integrated water resources management at all levels, including through transboundary cooperation as appropriate


By 2020, protect and restore water-related ecosystems, including mountains, forests, wetlands, rivers, aquifers and lakes
Let's protect our water!
scroll back up to sign our virtual flag.
- The 6 River Run was delivered in partnership with -
From Mina: My 6 River Run blog
- Frequently Asked Questions -
Who is Mina?
Mina Guli is a water campaigner and ultra-runner. She is the founder of Thirst, a China-based non-profit that educates children on invisible water.

She is also a Young Global Leader of the World Economic Forum. Meet Mina!

Why water, and Global Goal 6?
Clean, safe, accessible water for all is the most pressing issue of our world faces today. Water scarcity, poor water quality and inadequate sanitation affects people's lives, livelihoods, food security, choices and future.
What is Global Goal 6?
The UN has adopted a wide-reaching set of goals to end poverty, protect the planet, and ensure prosperity for all as part of a new sustainable development agenda. Each goal has specific targets to be achieved over the next 15 years.
For the goals to be reached, everyone needs to do their part: governments, the private sector, civil society and people like you. Goal 6 focusses on water.

The first step to getting involved and contributing to a sustainable future, is by telling everyone about them. So, here we are!
Why six rivers?
The rivers Mina ran along, bring the issues of Global Goal 6 to life. They vividly illustrate the various world-wide water issues that affect people's lives on a daily basis.
These problems can be solved with innovation, but only if people are informed and committed enough to re-engineer their lives, if companies work to adopt sustainable best practices (for example, by making more water-friendly products) and if governments commit to implement Goal 6 through their national and local policies.
Who took the amazing photos?
Kelvin Trautman, outdoor and adventure photographer extraordinaire!
What was the campaign hashtag?
Where can I learn more about the campaign?
More information on the Six River Run lives on Mina Guli's social media pages. You can link to them here:
How can I support Mina's campaign?
We're working to build commitment to the UN's Global Goal 6. You can help us by showing your support with a click: follow Mina on Facebook, Twitter or Instagram.
Why follow?
We believe that our global water issues can be solved with innovation, but only if people are informed and inspired enough to re-engineer their lives, encourage companies to adopt sustainable best practices, and make more water friendly products. The first step to making this happen is building a like-minded community. That's you!

Has Mina done something like this before?
Yes! Mina completed the Seven Deserts Run in 2016, where she ran the equivalent of 40 marathons (1,049 miles) in 7 weeks, across 7 deserts on 7 continents. The campaign focused on water scarcity issues, and deserts were great settings for visualising this story. The 7 Deserts Run expedition finished in the Mojave desert in Nevada, United States, near the start of the Six River Run expedition.
Is Mina crazy to do this?
"All progress depends on the unreasonable [wo]man." - George Bernard Shaw. Need we say more?
All the expedition photos
can be accessed here:
All the video footage
can be accessed here:
Professional images of Mina
can be accessed here:
Our press releases and Mina's Op-Eds
can be accessed here:
- Stay informed about future expeditions -
When you're not sure what it means to be an Australian...this week, our natural disasters minister said "I don't kn…

https://t.co/mui1N0U5MI

A huge honor this week to have been named one of Australia's 100 "Women of Influence"! What a privilege to be liste…

https://t.co/CpdzIBDNJB

The consequences of having no water reach far beyond dry taps. In Australia an early bushfire season is wreaking ha…

https://t.co/7yw5FHTkru